Vertex Lamp™
Vertex Lamp™
Regular price
$13900
$139.00
Sale price
$6900
$69.00
Save $70
Exclusive Design. Only Available @Pleshy
Customer Satisfaction Is Our Priority :)
Amplify Your Room

The beautifully designed Vertex Lamp fits snugly into the corners of your room, saving space and creating an unbelievable atmosphere. 
Our Vertex Lamp can fill any room area with various amounts of exciting illumination and color. From gaming sessions to movie nights, this lamp will transform your space into something that's perfect for any mood.
Features
✅ Transform your room setup 
✅ Choose from over 300 lighting effects
✅ Music sync mode - the lights dance to your tunes
✅ Change settings with mobile app or included remote
✅ Fully illuminates your room
✅ Gaming and movie modes

Package Includes

🎁 Vertex Lamp
🎁 Power Cable to Plug into Wall Outlet
🎁 Remote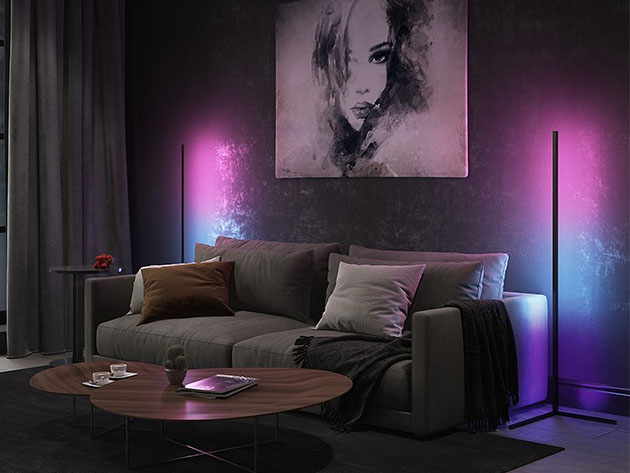 The Vertex Lamp is 140cm (55 inches) tall and crafted with durable aluminum material. It's powered by the included 12V wall plug. Simply plug the Vertex Lamp into any open wall outlet and step into a new vibe.
Unlimited Color Options
You can change the color of your Vertex Lamp with the included remote or mobile app. There are also 300+ multi-color effects to blend your favorite colors at the same time.
Easy Installation
The Vertex Lamp takes less than 5 minutes to assemble! Follow the instructions below.
Specifications
Material: Aluminum
Height: 140cm 
Lamp life: 50,000 hours (if used for 10 hours a day, this adds up to 13.7 years lifetime)
Includes: Lamp, base, remote control, AC adapter, user manual
Frequently Asked Questions (FAQs)
Q: Is the Vertex Lamp battery powered?
No, the Vertex Lamp comes with an AC power plug that you can connect to an open wall outlet. 

Q: What is the music sync mode?
When you turn music sync mode on, the lights automatically change to the rhythm of your music.
Q: Are there really 300+ lighting effects?
Yes! You can choose from over 300 different lighting effects to create an amazing atmosphere in your room.